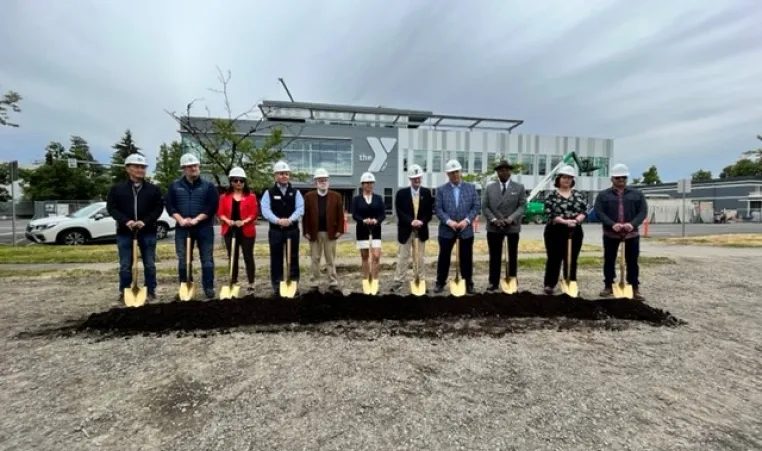 On June 15th, 2022, we broke ground on the Courtney Place Veterans Housing project.


On July 9, 1969, Senator Courtney stepped off of a Greyhound bus with a job offer to clerk for a judge, but no place to stay in Salem. Sen. Courtney called room 206 at the YMCA "home" for 2 years, and has since had a special place in his heart for the community that the YMCA fosters. 

Sen. Courtney's advocacy, and his desire to offer affordable housing to some of our most treasured citizens, helped secure $7 million for Courtney Place Veteran's Housing. Another $2 million in Federal Assistance was secured by U.S. Senators Jeff Merkley and Ron Wyden.
Schedule of Events:

Retired Lieutenant Colonel USMC and Y Veterans Housing Board President, Jason Van Meter, opened the ground breaking ceremony with the Pledge of Allegiance. The event continued with the Presentation of Colors by members of the Oregon Air and Army National Guard and the National Anthem was then performed by First Sergeant Jesus Cruz and the Army Band.

Following the land acknowledgement by the Grand Ronde Singers, remarks were made by Michelle Lovejoy (ODVA Interim Deputy Director), Rosia Macias (USMC Veteran and YMCA Board Member), and Betsy Emery (Northwest Oregon Field Representative for U.S. Senator Jeff Merkley.

Senator Peter Courtney closed out the ceremony by sharing his vision and passion for the project.  At one point he said "I hope that you feel as an Oregonian you can brag that we care so much for these men and women (our veterans) that we put a veterans' home right next to the people's house."


The 34-unit project is expected to take at least 14 months.